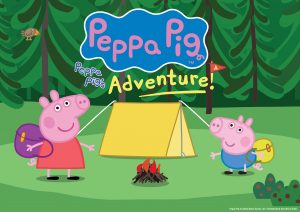 Peppa Pig and her friends are back in a brand new live show Peppa Pig's Adventure, featuring a new story, loads of songs and heaps of fun!
Produced by leading children's theatre team Fiery Light, in partnership with licensor Entertainment One, Peppa Pig's Adventure marks the ninth consecutive year of Peppa Pig live theatre tours (first tour in 2009) and the fifth Peppa Pig stage production in total.
Join Peppa as she gets ready to go on an exciting camping trip to the woods with George and her school friends, including Pedro Pony, Suzy Sheep and Gerald Giraffe. With lunch-boxes packed and Daddy Pig driving the bus, Peppa and her friends are excited about their outdoor adventure, full of games,  laughter and live music!
The happy campers soon settle down to sleep and listen to the gentle pitter patter of rain.  Safe and warm inside their tents the excited group can look forward to morning time, when there will be lots of muddy puddles to play in!
Richard Lewis once again has adapted for stage episodes from the hit TV show, created by Astley Baker Davies, and he also directs this new live show. He has done the same for the other four Peppa Pig live stage shows,  Peppa Pig's Party, Peppa Pig's Treasure Hunt, Peppa Pig's Big Splash and Peppa Pig's Surprise. The show also features music from BAFTA award-winning composer Mani Svavarsson.
Audiences will enjoy interactive fun, songs and games with Peppa Pig and her friends. Peppa Pig's Adventure promises to be the perfect theatre show for all pre-schoolers. Suitable for ages 3+.
Peppa Pig © Astley Baker Davies Ltd / Entertainment One
For dates and tickets click here; http://www.peppapiglive.com/tour.php